SECTION 1 – VEHICLE ASSISTANCE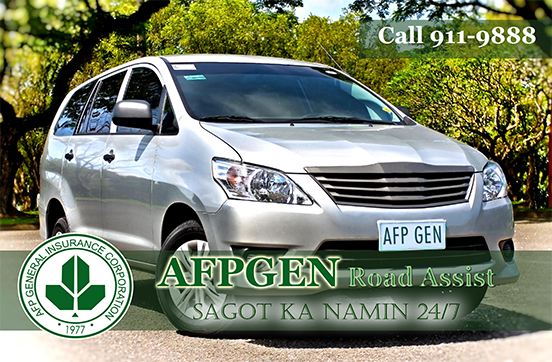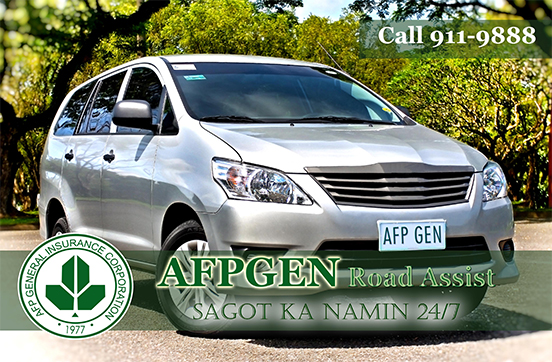 Towing (P4,500 Limit)
Towing and retrieval of the vehicle with the use of a crane (P10,000 Limit). No payment for repair cost.
Minor on-site repairs (P1,200 Limit): jumpstart, battery boosting, tire changing, delivery of gasoline (cost of gasoline not included), car lock-out.
Above services shall apply for an aggregate of 3 events per Policyholder per year except minor on-site repairs. In case of road accident, with the Policyholder's vehicle, this limit will not apply.
SECTION 2 – PERSONAL ASSISTANCE
Stay and travel due to Breakdown of the vehicle In the event of breakdown of the vehicle, Service Provider will pay for:

Hotel expenses (P4,000 Limit per night and Maximum of 2 consecutive nights), if vehicle cannot be repaired on the same day
ravel costs of the Policyholder from the place of breakdown to usual place of residence (P1,000 Limit), if vehicle cannot be repaired in 4 hours
Travel costs of the Policyholder to his/her final destination from the place of breakdown, provided that it is nearer than his/her usual place of residence

Relay of:

Urgent messages
Hospital contact details
Contact details of CONTRACTING PARTY's  acceredited service shops

In the event of an accident  involving the registered vehicle and upon the request of the policyholder

Arrangement for hospital admission for the Policyholder and injured passengers
Arrangements for the Return of Mortal Remains of passengers
Arrangements for ambulance assistance

24-hour medical advice over the phone for medical emergencies
Traffic updates
Road Directions
SECTION 3 – PROTECTION ASSISTANCE
Security Assistance – in cases where the policyholder feels that there is a threat, Service Provider will guide to the nearest police station or coordinate with police to respond to the scene.
Carnapping Assistance – coordination with the proper authorities
CUSTOMER AND CLAIMS ASSISTANCE 
24/7 Customer Assistance hotline
Adjuster Coordination Service
Referral to Authority Assistance – Police of Firefighter
Claims Report Service – initial Claims report to be given to AFPGEN
Claims Requirement Assistance
Legal Assistance Referral
QUALIFICATION
The vehicle designated in the Insurance Policy provided that:
The vehicle is not used for public transport of persons or merchandise, for hire with or without a driver.
The vehicle does not exceed 3,500 kilograms in weight. All types of AUV's SUV's and the like will be serviced for as long as they are branded.
The vehicle is not more than ten (10) years old. Special accommodations for cars beyond ten (10) years old on a case to case basis.
CONDITIONS
SERVICE PROVIDER shall be liable to render services or pay indemnity to the Policyholder, provided that the Policyholder shall comply with the terms of this Contract.
If the Policyholder requires a service named in this Contract, he shall:

Take all reasonable precautions to minimize losses
Call the service provider as soon as possible to report the problem and request services
Freely provide service provider with all relevant information

The SERVICE PROVIDER is not liable to perform Personal Assistance, which would otherwise be rendered under this Contract, should there be any insurance in force covering the same contingencies which predates this contract.
Whenever SERVICE PROVIDER is not involved directly in providing service, the Policyholder must obtain prior authorization by telephone. After receiving the service from a third party, the policyholder must submit original invoice to SERVICE PROVIDER for reimbursement.
If a roadside assistance is required due to an act of nature, SERVICE PROVIDER shall first consider the service to be rendered as long as it will not endanger the assets and lives of its crew/employees.
EXCLUSION
SERVICE PROVIDER will not be liable to provide any assistance that arises directly or indirectly from:

Fraudulent acts by any other person seeking services under this Contract
Consequential loss of any kind
Unless the situation has stabilized and lives of the crew are not endangered

Acts of terrorism, mutinies or riots
Actions by the Armed Forces, security forces or other organizations

Nuclear radio activity
The participation of the Policyholder in:

Competition sports
Competition, rallies or contest
Wagers or challenges
Criminal conduct

The deliberate act of the Policyholder
Illness or pathological states due to voluntary consumption of alcohol, drugs, toxic substances, narcotics or unprescribed drugs
Suicide or attempted suicide, mental illness, pregnancy, abortion or childbirth, preventive medical check-ups, thermal treatment, aesthetic surgery, HIV/AIDS, and trips aiming to receive medical treatment or surgery

Labor-related accidents or illness suffered during the professional activity qualified a risk-activity

The SERVICE PROVIDER will not be liable to provide any assistance in case the driver of the Vehicle

Is under the influence of drugs, toxic or narcotic substances or his blood alcohol level exceeds the legal limit
Does not possess a valid driver's license

SERVICE PROVIDER will not be liable for the cost of

Any repairs to the Vehicle
Any service assistance arranged by or on behalf of the Policyholder without the prior authorization of the SERVICE PROVIDER except in case of emergency of force majure.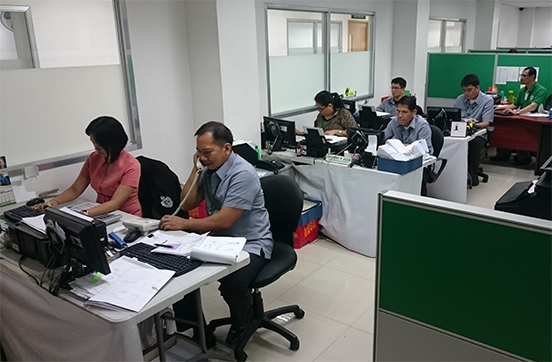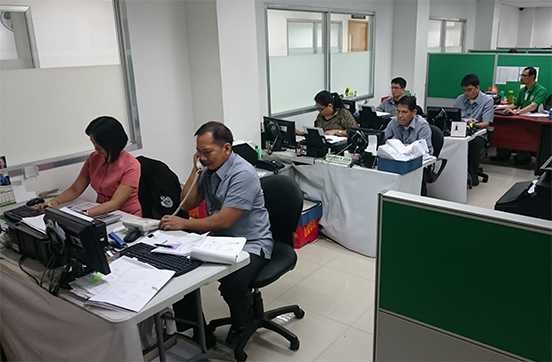 The One Stop Business Center (OSBC) is now in full swing!
The OSBC provides a more convenient way for clients to obtain all their insurance needs from queries to renewals. It offers the best-ever service for clients to avoid long lines and transferring from one office to another. It makes all product lines and services accessible to the clients and creates the speedy processing of the policies and other transactions.
In addition to the new clients, the number of renewals has also gone up. Since its establishment, the number of new clients & renewals have increased. Valued clients of the Company have commented that the OSBC makes all the difference since they no longer have to go from one division to another. Clients can comfortably wait for their policies to be prepared while lounging in the Center.
OSBC assists the clients with the following product lines: Motor Car Insurance, Fire Insurance, Firearms Liability Insurance, Bonds and Surety, Electronic Equipment Insurance, Comprehensive General Liability Insurance, Contractor's All Risk Insurance, Personal Accident Insurance, Marine Cargo Insurance, Travel Accident Insurance, Golfer's Insurance, Christmas /All Season Personal Accident Card.
For more information on the new and speedy service of AFPGen, you may contact the OSBC Office at 911-9888 loc 102 and 103.
THE FOLLOWING ARE THE PROCESS ON HOW TO FILE A CLAIM:
Report the claim to AFPGEN through AFPGEN Hotline (911-9888, 0998-9552374) or to the nearest AFPGEN Office, as soon as possible giving the following basic information:

Policy Number
Policyholder's / Assured's Name
Date of Accident
Nature of Claim (Own Damage, TPPD, TPBI, Theft, etc.)
Contact person & number

The following supporting documents are to be submitted by the Insured:

Assistance and Family Protection (Micro Insurance)

For Fire Assistance Section

Repair Estimate
Photographs of Fire-damaged portion
List of items affected/damaged
Certification from the Barangay that the property was damaged due to accident

Personal Accident

Police Investigation Report
If insured is hospitalized, Medical Certificate of attending physician
Hospital Statement of Account and charge invoices
Official Receipts of medicines purchased
Death Certificate, Birth Certificate and Marriage Certificate
Post-mortem Report

Motor Car

For Own Damage

Photocopies of Certificate of Registration and current year's Official Receipt.
Photocopy of driver's license of the person driving the insured unit and the current Official receipt (not necessary if the accident happened while the insured vehicle is parked).
Photographs of the damaged portion and the front and rear sides of the unit showing the plate number.
Repair estimate of the Insured preferred AFPGEN accredited shop.
Police Report or Affidavit of Accident

For Carnapping

Original Registration Certificate with corresponding Official Receipt
Duly accomplished Accident Report Form
Complaint Sheet
Alarm sheet
Ignition Keys, if available
Photocopies of Driver's License with corresponding Official Receipt of the person driving the scheduled vehicle (if car was in motion when carnapped).
Statement of driver taken at the police station
Police Report
Certificate of Non-Recovery
If company owned, Special Power of Attorney or Board Resolution authorizing the signatory to sell the Insured's unit.
If mortgaged, statement of balance from creditor bank, Cancellation or Release of Mortgage, and/or formal authorization from mortgagee to release claim proceeds to Insured.

For Third Party Property Damage

Affidavit of the person driving the scheduled vehicle at the time of the accident
Photocopy of Certificate of Registration and Official Receipt of the Insured vehicle.
Stencil of scheduled vehicle's Serial and Motor number.
Police Report or Traffic Investigation Report.
Photocopy of Registration and OR of the Third Party's vehicle.
Photocopy of Third Party's Driver's License and OR.
Photographs of third party's vehicle showing the damaged portions.
Repair estimate of the third party preferred AFPGEN's accredited shop.
Certification of No Claim from the Third Party's Insurer.

For Third Party Bodily Injury

Photocopy of driver's license with OR of the person driving the scheduled vehicle at the time of the accdent.
Photocopy of the Certificate of registration and OR of the scheduled vehicle
Stencil of scheduled vehicle's Motor and Chassis numbers
Police report or Traffic Investigation Report
Medical Certificate of T/Ps attending physician
Official Receipt, Invoice evidencing medical disbursement
Documents evidencing fraternity/guardianship in case victim is a minor to establish the proper payee
Hospital's statement of account, together with the supporting documents

For Third Party Death Claims

Photocopy of driver's license with OR of the person driving the scheduled vehicle at the time of the accdent.
Photocopy of Registration Certificate and OR of the scheduled vehicle.
Stencil of scheduled vehicle's Motor and Serial numbers.
Police report of traffic Investigation Report.
Medical Certificate and documents evidencing medical disbursement in cases where victim was hosptalized and given medical attendance before his/her death.
Receipt for burial expense.
Death Certificate and documents sufficient to establish the proper payee.

Inspection Options:

Drive-in

Proceed to AFPGEN's Drive-in parking slot. Our in-house adjuster will assess the vehicle's damages
Choose from the list of AFPGEN's accredited shops where the claimant/assured may wish to have his vehicle repaired
A Letter of Authority shall be issued in favor of the chosen accredited shop provided all required documents are submitted and claim is found in order

Fire

Refer to Claims Department (911-9888, 0998-9552374) or email our claims department at claims@afpgen.ph